Antique Maps of Europe, the Americas, West Indies, Australasia, the Orient – Douglas Gohm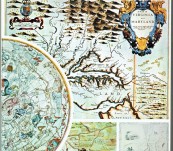 Short Description
A first printing published by Octopus Books, London and Sydney in 1972. Large quarto, 128 pages, profusely illustrated. A fine copy, in a fine dust jacket.
A very good book as an introduction to rare map collecting. A nice summary of the great cartographers and then a comprehensive array of some of the most attractive or intriguing.
Spot some of Voyagers favourites in here – such as the mysterious island of Juan Fernandez (page 95) also known as Robinson Crusoe's Island. And the Tallis map of South Australia makes the front of the dust jacket.
Good map book nice images ... educational content.

Updating...