An Egyptian Journal – William Golding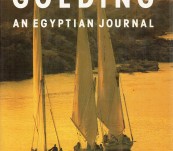 Short Description
A first US edition by Nobel Prize winning William Golding, published by Faber and Faber in 1985.
Golding's first novel "Lord of the Flies" a Voyager favourite ... strange because originally rejected by Faber and, despite his first, surely significantly .behind his Nobel award … which arrived in 1983 just before the publication of this adventure in Egypt. Aussies will know his Rites of Passage and the other parts of what was a superb trilogy … made into a classic screenplay with Benedict Cumberbatch as the protagonist.
An unusual and interesting book, a no nonsense account … Golding only needed to please one person … himself. So we quite like his honest views of everything Egyptian on the tour … not done in grand style but in the fashion of any honest adventurer.
Larger octavo, 207 pages, illustrated with interesting titling .. a very good copy.
A very different Egypt travel account by the talented irascible sarcastic observant Golding

Updating...