Aces Made Easy [Cheating at Bridge - Our Emphasis] – McCullough and Fogasse.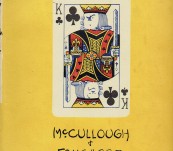 Short Description
Published by Methuen, London in 1945, having first been published in 1934.
Small octavo, 134 pages, illustrated by Fogasse. I very good copy albeit with dust jacket chips.
We love this little book which is essentially all about how to cheat well at the card game Bridge. Bridge players on the whole are rather snooty self important individuals. It's a game that can lead to divorce, and lost friends, so cheating on those so self consumed seams to Voyager to be rather fair.
The Author wrote a few books along these lines – another we like is tilted "Card-playing for Profit" .. another "What shall I tell my Partner?".
Get over the moral dilemma and cheat at Bridge it's much more fun than the game.

Updating...