A World of My Own – Robin Knox-Johnston – First edition 1969.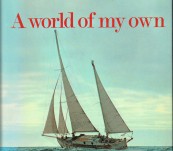 Short Description
A fine copy of the first edition 1969 of a then young Robin Knox-Johnston's single-handed non-stop voyage around the world.
Published by Cassell, London. Octavo, 240 pages, end paper charts and illustrated very nicely.
Humble thorough account although he does point out his vessel Suhaili at 32 feet was smaller than Alec Rose's Lively Lady at 36 feet and the relative monster Gipsy Moth II of Francis Chichester at 53 feet. Great technical information and tips for overcoming a number of practical difficulties.
We like the extensive lists of stores and instruments at the rear and especially his extensive onboard library which included … Boswell, Bronte(Wuthering Heights), Carlyle, Cherry-Garrard (Worst Journey), Darwin (Voyage of Beagle), Dostoevsky (Crime and Punishment), Laurence Sterne (Tristram and Sentimental), Thackery, Gilbert White (Selbourne) and from modern time interesting to see David Lewis (Daughter of the Wind) and [Voyager Hero] Hiscock (Wanderer III) …. Must have shopped at Voyager!
Knox-Johnston made his name on Suhaili deservedly so!

Updating...