A View of the Island of St Helena – Allain Mallet -1683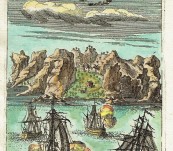 Short Description
An original copper engraved view of the island of St Helena in the Southern Atlantic by Mallet published in Paris in 1683 as part of his great work on the Universe.
Allain Manesson Mallet (1630-1706) was a French cartographer and engineer. He started his career as a soldier in the army of Louis XIV and became a Sergeant Major and an Inspector of Fortifications. He at one time acted as a mercenary for the Portuguese. His work contains unique imagery. The map of St Helena supports that view in that he portrays the island in perspective as if viewed from the ocean. The rugged landscape emphasised and the Governors House not far from the solitary landing place. The cannon firing fully rigged ships emphasise a time of turmoil and hostility. Not long earlier in 1673 the Dutch had taken the island before British re-enforcements restored control.
It is thought that St Helena was discovered by the Portuguese circa 1503 but they never exploited the island. Sir Francis Drake likely called in during his circumnavigation in 1580. It was the Dutch who formally first made claim on the island in 1633 but they soon abandoned it in favour of the Cape of Good Hope. Oliver Cromwell granted the English East India Company the right to govern St Helena in 1658. In 1815 the island was selected to be the second place of detention of Napoleon Bonaparte [having previously escaped from Elba]. Napoleon died there in 1821. Britain applied Crown rule of the island from 1834.
Price $90.00 unframed. $190 framed ... includes postage subsidy.
Cannon's blazing off St Helena - Mallet

Updating...