A Narrative of a Voyage to New Holland and Van Diemen's Land by Amaso Delano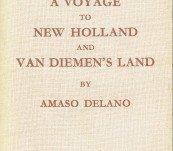 Short Description
Published by the Cat & Fiddle Press, Hobart, Tasmania in 1973. One of 500 copies and a fine example of a special work.
Octavo, with dust jacket, unpaginated but complete.
A facsimile extract from a Narrative of Voyages and Travels in the Northern and Southern Hemispheres Comprising Three Voyages Round the World Together with a Voyage of Survey and Discovery in the Pacific Ocean and Oriental Lands.
Set out in two parts.
Part One: Remarks upon a voyage to the South Sea by way of the Cape of Good Hope – King Island – Straits between New Holland and Van Diemen's Land – Settlements on New Holland and van Diemen's Land … and,
Part Two: Transactions at New Holland, Van Diemen's Land, and Bass's Strait – Letter to Philip Gedney (sic) King, Governor General of New South Wales – remarkable Accident of the Pilgrim's boat being sunk – Departure from Bass's Strait – Description of the Snares – Bounty Islands – Passage across the south Pacific Ocean – Rendezvous with the ship Perseverance.
Amas Delano – a rare account brought to life by the Cat & Fiddle.

Updating...