500 Days – Around the World On a Twelve Foot Yacht – Serge Testa – Signed First Privately Published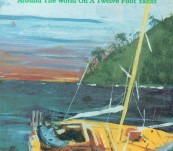 Short Description
A pretty rare softcover privately published by the adventurer in Aspley a suburb of Brisbane in 1988.
216 pages, illustrated from original photographs and sketches (including maps) by the author. A little turned at the corners and the very odd mark, otherwise very good condition.
Whilst some records show the smallest boat to circumnavigate was Kuczynski in May 2018 in a 21 foot vessel … we cannot understand that claim as the Serge Testa's "Acrohc" was 40% smaller at 12 feet.
Surely cannot really be beaten – 12 foot around the World.

Updating...