Van Diemen's Land Revealed Editor [Bass and Flinders] – Dan Sprod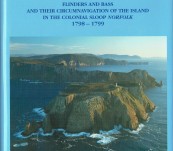 Short Description
All about – Flinders and Bass and their circumnavigation of the island in the colonial sloop Norfolk in 1798-1799.
Superior work from Dan Sprod and a limited edition of 750. Published by Blubber Press in 2009. Here in fine condition.
Large octavo, 256 pages, nicely illustrated. Three charts in pocket at end as required.
Although modern this strangely is the first work dedicated to this important circumnavigation which in a sense defines Tasmanians. Other Flinders and Bass events provide support including Bass in the Tom Thumb from Sydney Cove to Western Point; Flinders to the wreck of the Sydney Cove and a facsimile of the rare Flinders pamphlet "Observations on the Coast of Van Diemen's Land" to which the folding charts relate. Nice work.
Essential Tasmanian reference

Updating...