The Long Way – Bernard Moitessier – First English Edition 1974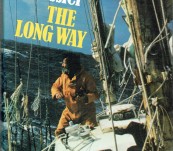 Short Description
First English edition published by Adlard Coles in 1974, after the French edition of 1971. Translated by William Radamor.
Octavo, 252 pages, illustrated from photographs, sketches of riggings etc, numerous charts of tracks. Super condition very good dust jacket.
Sought after account of the enigmatic Moitessier … has anyone sailed further ..we do not think so ..
Moitessier's story all began as a participant in the single-handed round the world yacht race, the Golden Globe race, of 1968. Almost done and technically in the lead, whilst in the South Atlantic for a second time, instead of returning to Plymouth he sailed on along his original course returning to the Pacific. He then made his way to Tahiti .. Little was known as to his motivation until this book …
Bernard Moitessier – A special man and a special sailing adventure unlikely to be repeated.

Updating...