Disturbing Element [An Autobiography] – Xavier Herbert – First Edition 1963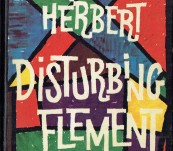 Short Description
A very nice first edition copy of Australian writer Xavier Herbert's autobiography.
Born in 1901 Xavier Herbert had a rather strange upbringing. He trained as a Pharmacist having worked in a chemist's shop at the age of 14. He went to Melbourne to study medicine. Writing was a passion but he was in his thirties before his great work "Capricornia" was published to great acclaim. He was much admired by HG Wells.
Xavier Herbert was the "Disturbing Element'. Published by F.W. Cheshire, Melbourne etc in 1963. Octavo, 271 pages, a very good if not better copy.
Xavier Herbert published few works and his final novel "Poor Fellow My Country" was published in 1975 and won him the Miles Franklin award. It is also the longest novel ever published by an Australian writer at 1,466 pages and an estimated 852 thousand words
Interesting autobiography of the elusive talented Xavier Herbert.

Updating...