Map of Northumberland – John Speed / Pieter van den Keere – 1627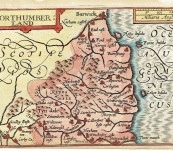 Short Description
A delightful and quite rare map of Northumberland … the origin of Voyager.
Pieter van den Keere (1571-1646) engraved a series of miniature English County maps based on the original surveys of Christopher Saxton. First published by Willem Janzoon Blaeu in 1617 they were Anglicised by the great cartographer John Speed and published by George Humble in 1627. They are often referred to as "Miniature Speeds".
Printed area 12.3cm by 8.6cm good plate mark. This example has a shallow lower margin and a little age … altogether still a very good example of a rare near 400 year old map.
The map stretches to Carlisle and beyond in Cumberland. The county border is clearly shown as a dotted line and at this time Berwick – Upon – Tweed (Barwick) is clearly in England. Holy Island, the Farnes and Coquet Island feature in their olde names. The Cheviot and Simonside Hills are shown and numerous of the Northumberland Norman Castles feature. Interestingly, Cartington has been mis-engraved and a little "t" has been inserted above … a distinctive feature of this engraving that pins its provenance down quite nicely. Voyager used to play among the ruins of Cartington as a young fellow.
Special map of Northumberland a delight for expatriate Northumbrians and all.

Updating...