Yandy – Donald Stuart – First Edition 1959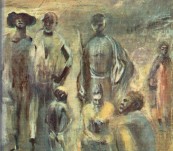 Short Description
A first edition published by Georgian House, Melbourne in 1959. Octavo, 156 pages plus glossary of aboriginal words. A very good copy.
Described as a documentary novel. Based on the true story of an aboriginal group who went on strike as station hands in the north of Western Australia in 1946. They won their right to independence and established their own mining co-operative at Marble Bar. The "Yandy" is the name given to the shallow bowl used by fossickers.
Successful fight for aboriginal independence – based on a true story.

Updating...