Wrecks on King Island – Jack Loney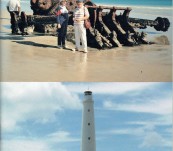 Short Description
From wreck master Jack Loney. Focused on the wrecks of King Island bang in the middle of the Bass Strait … there were plenty of them.
Originally published in 1979 this is a fine copy of the reissue dated 1995, by Marine History, Portarlington, Victoria … effectively self published this was Jack Loney's address. Decorated soft covers, 52 pages, illustrated.
Beautiful, wind blown King Island known now for its world best dairy products, giant crabs and challenging golf course. In the early days a haven for whalers, sealers and convicts on the run.
Presented as a chronology from 1801 to 1994 with enough detail to provide a good education on the subject and an excellent starting point for the more detailed investigator.
If its Loney its Shipwrecks and where are they plentiful – King Island.

Updating...