Wind Aloft Wind Alow – Marin-Marie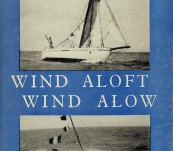 Short Description
Single-handed crossings of the Atlantic under sail and then under power.
Translated from the French, this edition 1947 by Peter Davies, London. Octavo, 322 pages. Book and jacket have received a scrunch in the top right, internally very clean. Jacket now in Brodart, a good copy. Nicely illustrated, some from the authors accomplished paintings
Marin-Marie was the appointed "Painter to the French Ministry of Marine". This is his super account of the Atlantic crossings first by sail in the Winnibelle and the under power in the Arielle. Sail occupying two thirds of the book. At the time he was the first to go it alone all the way across under power.
A book full of the marine … quite technical in places re automatic steering, engines etc
Marin-Marie twice across sail and power.

Updating...