Utopias and Imaginary Voyages to Australasia – John Dunmore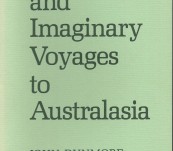 Short Description
Who else could be more qualified to write and present on this subject at the National Library of Australia than John Dunmore?
Octavo, card cover of 23 delicious pages, the text of Dunmore's lecture of 2nd September 1987, published by the N.L.A. the following year. A fine copy.
From Joseph Hall's "Mundas Alter et Idem' the first utopian account to be set in the Antipodes, with mentions of La Perouse and "Fragmens" … Aldous Huxley is a bit of a drift … then back to Utopian reality and the Adventures of Alexander Venderchurch and many more esoteric accounts before back to the likes of Gulliver and that endearing Swiss Family.
A special lecture by Dunmore on down under Utopia – wish I had been there.

Updating...