Unusual Queensland Item – Directions by Night and by Day – Simple Methods Developed for the use of Scout Troops – E. T. Holdaway FRAS and W.J. Newell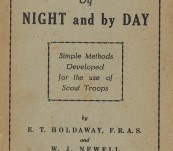 Short Description
This is a essentially a military guide for soldiers and scouts (maybe with military intentions) printed by Roberts & Russell, George Street Brisbane, described as distributed by Barker's Bookstore so therefore also generally available. Having said that we cannot find any other copies; not in Trove.
A 24 page soft cover. Large folding chart celestial chart of unusual style at front, numerous other diagrams throughout. Stapled binding with spine sometime split now re-enforced. Generally good condition for a fragile item
Edwin Thomas Holdaway was a Fellow of the Astronomical Society and the Head Surveyor in the Queensland Lands Department, Lecturer at the University of Queensland in Surveying. Newell was also in the Lands Department and was the designated Queensland Astronomical Observer of the time. Holdaway died in 1947 which confirms the likelihood this was a WWII technical assistance booklet.
Unusual Queensland Astronomical Work - WWII

Updating...