Two Voyages to the South Seas – Dumont D'Urville – 2 Volumes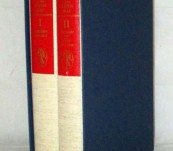 Short Description
Two large volumes published by the University Press Melbourne 1987. Cream linen covered boards protected by a slipcase, a flicker of age on the spines otherwise very good condition.
Reissued from the original French translated by Helen Rosenman.
Volume I - 312 pages deals with the voyages of the Astrolabe 1826-1829 and,
Volume II - pages 313-634 the voyage of the Astrolabe and Zelee 1837-1840.
Nicely illustrated with 29 maps and charts and 56 plates - some in colour. This is the first account in English of two important voyages to Australasia the Pacific and the Antarctic. The Astrolabe visited Hobart Town, Jervis Bay and Port Jackson whilst the second voyage went to Port Essington as well as Tasmania (again) and the Antarctic. A superb account of the people and natural history encountered. An essential Antarctic item for that element.
Two Special French Voyages by D'Urville

Updating...