Tortilla Flat – John Steinbeck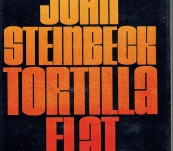 Short Description
First published in 1935 this is the book that brought success for John Steinbeck.
This is the Modern Library edition, a 1970's issue, Steinbeck had passed away in 1968 as noted on the back flap … although not updated in the "Note on the Author".
As well as the "Note' we have Steinbeck's own remarks about the book. He struggled a bit with the critics interpretation of the characters in the book … he held them close to his heart.
Octavo, 317 pages with illustrations by Ruth Gannett. A nice copy.
The story of "Danny's House" and the lives and exploits of the Paisanos that lived there.

Updating...