Three Players of a Summer Game – Tennessee Williams – First UK Edition 1960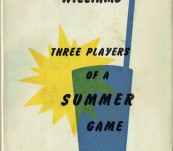 Short Description
A first UK edition published by Secker and Warburg, London in 1960.
Octavo,223 pages, very good condition bar dust jacket complete but a little dusty.
Collection of short stories including the title story; The Important Thing; One Arm; Portrait of a Girl in Glass; The Coming of Something to the Widow Holly; Two on a Party; The Yellow Bird; The Field of Blue Children; The Malediction; The Angel in the Alcove; The Resemblance between a Violin Case and a Coffin and The Night of the Iguana.
A fine collection of Tennessee Williams …

Updating...