The Venturesome Voyages of Captain Voss – Voss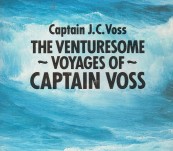 Short Description
Published by Century, London etc. 1976, from the 1926 original, 326 page softcover, charts and with all of Voss's technical appendices. Nice introduction by Commander Grubb puts this historic account into perspective.
The voyages comprise adventures in the Xora, Tilikum (Friend) and Sea Queen. The first, in the Xora, was from Victoria B.C. to Cocos Island in search of the treasure purported to be buried there. Then on to Calloa in Peru a ten thousand mile voyage in a boat of ten tons.
The second, in the Tilikum, an Indian canoe dug out a solid piece of wood and decked by Voss. Weighing only one and a half tons Voss crossed the Pacific, visiting New Zealand and Australia, the New Hebrides and through the Torres Strait to the Indian Ocean. Round the Cape of Good Hope, up to the Azores before reaching London.
The third, in the yawl Sea Queen, only 28 feet but incredibly seaworthy. Voss recorded surviving a full somersault in a terrific gale.
Between the monumental voyage in the Tilikum and his adventures in the Sea Queen Voss spent five years in charge of sealing vessels in the North Pacific and Behring Sea.
Voyages of Voss – special Maritime history

Updating...