The Third Eye – the Autobiography of a Tibetan Lama – Lobsang Rampa.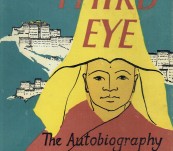 Short Description
First published in 1956, this copy from the next year, by Secker & Warburg, London.
Octavo, 256 pages, some illustrations including "Symbolism of Tibetan Chortens". Nice dust jacket art with a photograph of the author on the rear.
At the age of seven Rampa was decreed by two famous Tibetan astrologers to be specially gifted. He left his family for the Lamasery of Chakpuri on the outskirts of Lhasa. He became an adviser to the Dalai Lama because of his exceptional powers. The "Third Eye" is a reference to a procedure that heightens one's abilities in clairvoyance. In the volcanic caves under the Potala he submitted to the mystical experience … the "living death". And there is more … one for the believers.
The autobiography of a special gifted Lama.

Updating...