The Quiet American – Graham Greene (Collected Edition)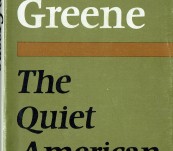 Short Description
Turned into a classic movie (how many of Greene's novels have not been?), with Michael Caine, based in Indo-China a striking story of new and old world
This is the "Collected Edition" a 1989 printing. Octavo, 211 pages to the novel but with the xxx page introduction by Greene that make this issue something extra.
A couple of innocent chips to the jacket and a gift inscription on the front end paper, otherwise a very good copy of a surprisingly hard edition to find.
Greene – One of his Best – With the Quiet American.

Updating...