Pirates of Papua – J. M. Downie – First Edition 1949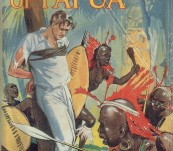 Short Description
A first edition with the scarce dust jacket published by Frederick Warne, London in 1949.
Octavo, 249 pages, pretty clean albeit some childlike scribbles on the rear end papers. Rather impressive bookplate of previous owner, Papuan collector Charles Fletcher, at front. A chip to the dust jacket spine top and bottom but really a great example.
Pirates are still patrolling the coasts of Papua New Guinea and the outlying island … ask Kerry Stokes. This is an adventure story … Dick Hale has a pretty tricky time on the cannibal island of Malekula … but it gets worse when he and his companions find themselves in pursuit of Red Kelly a notorious blackbirder and traitor into the interior of New Guinea.
An unusual New Guinea story based around real issues .. and a super looking book.

Updating...