The Natural History of Stuck-Up People – by Albert Smith – 1847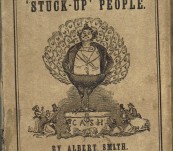 Short Description
A fourth edition and scarce regardless. Published by David Bogue, London.
Even more scarce in its original form with delicate printed wrappers, albeit a little dusty and chipped at spine ends. Small octavo, 112 pages with preliminaries and after catalogue.
Illustrated by A Henning. A hilarious put- down of Stuck-up people. Could still be well applied, approaching two hundred years later.
"These good people partake much of the nature of mushrooms insomuch they haven't only sprung up with great rapidity to their present elevation, but have also risen from mould of questionable delicacy"
Very useful early Victorian put-down of the stuck-up variety
SO SORRY SOLD ... TO A DECIDEDLY UNSTUCK-UP PERSON

Updating...