The Native Moment – Anthony C. West – First Edition 1961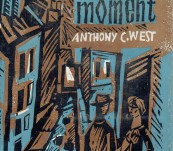 Short Description
A first edition published by MacGibbon & Kee, London in 1961. Octavo, 280 pages a little browning near end but really a super copy in a nice full dust jacket.
Highly regraded author, son of H.G. Wells and Rebecca West .. who were never married because H.G. already was. Anthony West respected H.G. perhaps more than his Mother … falling out with her over a book which did not reflect well on her … conversely he wrote a very favourable biography on H.G.
The Native Moment is a powerful story about the unusual relationship between Simon Green an eel seller in Dublin and Tamar, a girl from the lakes who has found herself in child after being treated very badly. A highly charged and emotional story.
Respected author – First Edition

Updating...