The Life of Graham Greene – 3 Volumes (Complete Set) – Norman Sherry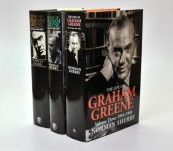 Short Description
A superb work by Professor Sherry which must rank of one of the greatest biographies of a leading 20th Century writer.
Three volumes … Vol 1: 1904-1939; Vol 2: 1939-1955 and Vol 3: 1955-1991.
Published by Jonathan Cape, London first impressions dated 1989, 1994 and 2004 respectively. Very nice condition indeed. A heavy set ... over 3.5kgs so a postage supplement may be required.
Vol 1, 783 pages after preliminaries with 78 illustrations from photographs and further line drawings. Covers his early life up to the publication of "The Power and the Glory".
Vol 2, 562 pages after preliminaries with 51 illustrations from photographs and further line drawings. Covers the years of WWII and then the author's most prolific writing period. During this period he collaborated with Carol Reed in the making of the films The Fallen Idol and The Third Man. His personal life was at its most tumultuous having an affair with the wife of a British Peer and then the break-up of his marriage.
Vol 3, 906 pages after preliminaries with 54 illustrations from photographs about his later years with plenty of traveling and a continued thirst for writing.
Of particular interest to Voyager is Greene's active role in espionage in several parts of the world. Professor Sherry exchanged correspondence with Kim Philby at one time Greene's direct superior and now exposed as a traitor and living in Moscow.
Graham Greene complete and openly revealed by Sherry.
SO SORRY SOLD

Updating...