The Henty Journals – A Record of Farming, Whaling and Shipping in Portland Bay, 1834-1839. – Lynnette Peel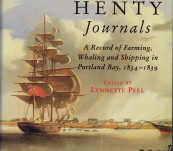 Short Description
A super copy of this first edition well produced book published by The Miegunyah Press in 1966.
Large octavo, 297 pages, nicely illustrated. A fine copy and as always with the Miegunyah Press nothing spared, printed on Pageantry Text Creme paper, limited to a thousand copies.
The Henty family left Sussex in England in the 1820's to make their life in Australia. With farms first in Western Australia and Tasmania they settled at Portland Bay in Victoria. Edward Henty is recognised as the first permanent settler in Victoria. Diaries written by Edward and his brother Francis are a prized possession of the State Library of Victoria. They form the basis of this book. Brother Thomas settled at Launceston in Tasmania and bred Marino sheep often selling to the Macarthurs of Camden. Not restricting their activities to the land they undertook maritime and whaling adventures and sadly had a hand in reducing the population of the Southern Right Whale.
The Diaries of the brothers Henty – a genuine glimpse into life in the early 19thC.

Updating...