The Great Gatsby – F. Scott Fitzgerald – Collected Grey Walls Edition – 1949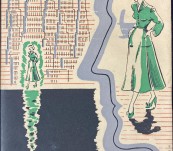 Short Description
One of the most desirable books in the history of the American novel.
A second impression of the Grey Walls First UK Edition published 1949. Highly collectable. The period dust jacket designed by George Woodman is just super and really very hard to find. Octavo, 164 pages, a little ageing, ownership signature on front free end paper, overall a pretty good copy.
Originally published in 1925, at the height of the "Jazz Age" based in Long Island … mysterious millionaire Jay Gatsby becomes obsessed with reuniting with former lover Daisy Buchanan. A story line based on Fitzgerald's own experiences and his former fling with socialite Ginevra King and the wild parties they attended at Long Island. On its initial publication is was a bit of a flop and it was only later when issued to American troops in WWII and introduced to the US schooling program that it was reassessed … leading to this special Grey Walls UK edition.
Rare desirable Fitzgerald's Gatsby by Grey Walls.

Updating...