The Crossing of Antarctica [the Very First] – Sir Vivian Fuchs and Sir Edmund Hillary – First Edition 1958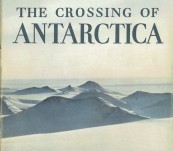 Short Description
Not a rare book, very popular at the time but an extremely clean copy of the first edition – of a book often well loved.
Thick octavo, 338 pages, nicely illustrated with endpaper maps etc. Apart from a page with an old fold mark clean as a whistle with a very good dust jacket. Published by Cassell London in 1958
Shackleton tried to make the Pole from the Weddell Sea, had a pretty good go but didn't make it … no one else tried until this adventure.
It was November 1957 when a team of twelve set off from Shackleton Base to the South Ice and then directly for the Pole. Unlike Shackleton they had vehicles, sledges and dog teams. Fuchs was off. On the other side from Scott Base Hillary set out with his team to lay the path for Fuchs's second leg after the Pole and his place in the annals of Polar Exploration.
Super copy of an important work – Fuchs all the way across. Should be in every library.

Updating...