The Best Science Fiction Stories (Second Series) – Edited Bleiler and Dikty – First Edition 1952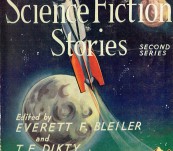 Short Description
The second series edited by the experts in the field Bleiler and Dikty. Authors include ... Cyril Kornbluth; Damon Knight; Ray Bradbury; Katherine Maclean; L. Sprague de Camp ...
First UK edition published in 1952 by Grayson & Grayson, London. Octavo, 240 pages. Striking dust jacket designed by Madge Marriott. A very good copy super clean inside and very good jacket.
Fourteen short sci-fi stores, including classics … Not to be Opened; The Mindworm; Contagion; The Last Martian and Born of Man and Woman.
Stories for grown up readers.
Classic Sc-fi collection first nicely presented.

Updating...