The Arbouin Copper Mines at Cardross on the Chillagoe Mineral Field, North Queensland – Lionel Ball – 1918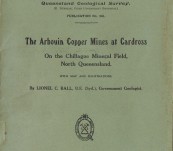 Short Description
Queensland Department of Mines publication no 261 by Lionel Ball B.E. published in Brisbane in 1918. At that time Ball was the Government Geologist. The mines also produced some gold and silver.
Seventy pages still in the original olive green paper wrapper. Illustrated with a map, diagrams and images from photographs taken by the author. Previous ownership name etc on title otherwise clean and bright.
William Hahn, in exploring the Tate to the Walsh river traversed the outskirts of the field in 1872. After that likewise Mulligan the explorer whilst marking a road from the Etheridge to Palmer Goldfields passed within sight of the Mountain Maid cupriferous outcrop. It was not until 1897 that the true resources of the area were more properly understood when Arbouin and Harkins came upon the outcrops known as the Klondyke. Logan Jack visited the resulting field a year later and was most impressed with the possibilities. Unfortunately costs were high in this region and whilst there were some successes the outbreak of WWI put paid to that as many of the men involved enlisted and few sadly returned.
The publication starts with the usual history of the region also addressing previous publications.
A comprehensive report on the geology of the area .. pre-Silurian schistose rocks; Amphibolites; Pegmatites; Permian Elvans etc.
Ore deposits … their origin, lode channels, formations and ore shoots.
Mineralogy and the distribution of elements and the occurrence of minerals … many in form.
A Register of Holdings; Mining operations; Treatment carried out in terms of ore dressing and some smelting.
The Queensland Chillagoe Mines – A scarce and curious one ..

Updating...