The Adventures of Louis de Rougemont – 30 Years amongst the Australian Aborigines – By Himslef – First edition 1899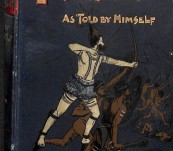 Short Description
Published by George Newnes, London a first edition 1899.
Octavo, 396 pages with 46 illustrations. Unusual decorative covers with our hero author, in battle with bow and arrow, on stilts! Some age, still a very good copy.
This book caused an absolute stir in Australia. The Author, real name Henri Louis Grin, claimed to have been shipwrecked and lived among the aborigines in Australia for 30 years where he claimed to have met Ludwig Leichhardt's daughter. Also, some time in Papua New Guinea with pearls and gold. Told by himself! Seemingly, gave presentations to the Royal Geographical Society before exposed as a fraudster
Strange adventure in Australia

Updating...