Tasmanian Aboriginal Place Names – N.J.B. Plomley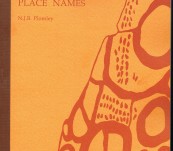 Short Description
Published in the early 1990's by the Queen Victoria Museum, Launceston, where Plomley was at the time an Honorary Research Assistant and the University of Tasmania. Described as their "Occasional Paper No 3". Hard to find a copy.
Printed internally on A4 sized paper, ninety-eight pages, staple bound, binder's tape, orange heavy card covers, Cover image in red from rock carvings at Marrawah, Northwest Tasmania. Fine and clean.
After a brief introduction there are ninety plus pages of Aboriginal place names. Many with possible alternative pronunciations, references and in some cases admissions that the location is not yet (then) known. A brief reverse index appears at the end for those that want to trace back English names to their former true name. Bibliography.
A worthy task would be to revisit those locations where the "location" remains unresolved and well resolve them.
Tasmanian Aboriginal place names – get used to them …

Updating...