Patanela is Missing [Sinking off Sydney] – Paul Whittaker and Robert Read – 1993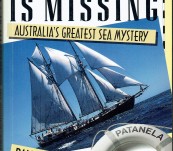 Short Description
Published by Bantam 1993, a first and only edition. Octavo paperback, 248 pages with maps and 16 pages of black and white plates. A very good copy.
The investigative account of Australia's greatest sea mystery.
Patanela, a 19-metre schooner, vanished without trace approaching Sydney Harbour in November 1988. She was the sturdiest yachts afloat having completed Antarctic voyages and circumnavigated the globe. She was considered by those who sailed her, and by the man who built her, to be unsinkable. Constructed of steel with four watertight bulkheads, Patanela carried the latest safety and navigational equipment.
There are few who believe she faltered on that calm November night, within sight of the lights of Botany Bay. There was no mayday call, no distress flares sighted, no debris, and no bodies as evidence of her sinking.
Scarce account of one of Australia's most curious sea mysteries.

Updating...