Orpheus Descending – Tennessee Williams – First UK Edition 1958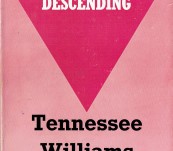 Short Description
A first UK edition published by Secker and Warburg, London in 1958.
Octavo, 96 pages, very good condition bar a small dust jacket chip.
Contains an interesting 4 page introduction by the dramatist titled "The Past, The Present and the Perhaps". TW had already found success with a Streetcar Named Desire before the release of this work. In his introduction Williams tells us that this drama was in fact based on an earlier work "Battle of Angels" and it was in that form that he got his first big break – a $1,000 Rockefeller grant. He had never quit working on it until this publication … suggesting that it is in fact 75% reworked.
So we think a bit more than just a play but a playwriters experience is embodied in this work.
Orpheus – a long time coming but done in the end …

Updating...