Original Press Photograph – The Archbold Expedition at Mount Wilhelmina – 1939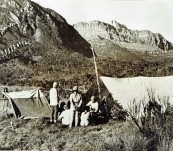 Short Description
An original photograph 22cm by 15cm of the Archbold Expedition camping at the tree line near the base of Mt Wilhelmina, Dutch New Guinea during their important biological exploring expedition of 1938/39 … the third and most ambitious of Archbold's expeditions, under his leadership.
Very good condition albeit usual press stampings and pasted narrative to rear.
The narrative reads – "Exploring New Guinea by Air – Mount Wilhelmina, Netherlands New Guinea – The camp of the expedition carriers near the timber line in the shadow of Mount Wilhelmina (background) the second loftiest peak on the island, rising mor than three miles at the Equator. It was in this area that MR Archbold discovered a bird he said was hitherto unknown to science. It is slightly larger than the ordinary sparrow, with a bluish-black boy an a brilliant red patch to its throat. It has a delicate, flycatcher- type back and warbles melodically"
Richard Archbold (1907-1976) was a wealthy American zoologist and philanthropist … his three expeditions to Dutch New Guinea were very successful, particularly this the third and final expedition. In it they concentrated mainly in the area from Mt Wilhelmina to the Idenburg River.
Mt Wilhelmina, known as Puncak Trikora since 1963 is 4,750 metres high. It was first climbed in 1913 by Alphons Herderschee. At that time its peak was still covered by a substantial ice cap, as were a number of other high peaks in the area. During the early part of the 10th Century the ice gradually melted and had disappeared by c1940.
The Archbold expeditions continued, under Australian leadership, after WWII and included territory in Papua New Guinea. We have the reports of these later expeditions in stock.
Price $40.00
Nice image of the Archbold camp New Guinea 1939.

Updating...