Original Press Photograph – Australian Graves – Battle of Buna-Gona – 1942/43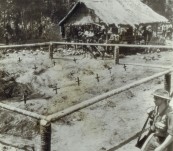 Short Description
An large original photograph 23cm by 19cm of a New Guinea Burial Ground, crosses mark the graves of Australians who fell in the fighting for Gona, New Guinea.
The Battle of Buna-Gona was fought from 16th November 1942 to 22 January 1943 and was part of the New Guinea campaign during WWII. It followed the conclusion of the Kokoda Track campaign. Fought by Australian and US forces against the Japanese beachheads at Buna, Sanananda and Gona.
The photograph has the usual press library marks and notations on the rear and is date stamped Jan 11 1943, putting it as having been produced during the campaign actual.
An important and moving New Guinea campaign photograph

Updating...