On The Beach – Nevil Shute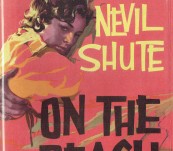 Short Description
Nevil Shute's post apocalyptic novel .. complete and unabridged.
Published by Heinemann, first film edition 1959, 312 pages, all in very good condition, nice condition jacket protected in removable Brodart.
As mentioned, this is the film edition issued contemporaneous with the Stanley Kramer directed hit movie. Filmed in Melbourne with a raft of stars including Gregory Peck and Ava Gardner who feature on the iconic dust jacket.
Superbly written by the British born Australian writer. A shocking novel about the end of the human race following nuclear war in the Northern Hemisphere. No doubt it made many think about the consequences of building tensions during the Cold War.
Shute's best and surely most provoking novel

Updating...