Mount Morgan Gold Mine – Queensland – Newton & Co – Original Magic Lantern Slide – c1910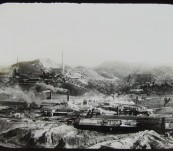 Short Description
Very good condition magic lantern slide from Newton & Co Fleet described in cursive writing.
We date the slide to around 1910. New & Co were at 43 Museum Street London. They were the world's longest established suppliers of scientific instruments being formed by Sir Isaac Newton's cousin J. Newton in 1704. At the time of this slide the proprietors were still from the Newton family. The British Museum have Newton & Co out of business at Museum Street in 1913, but other references have it continuing
A classic view of this famous mine which magnifies to present incredible detail. Standard British size in fine condition. A scarce slide.
Gold was discovered in 1870 by William Mackinley. Unfortunately, he couldn't find anyone to confirm that it was gold. After some "carry on" a chap called Gordan had a crack at it … he needed the financial muscle of the Morgan brothers who in the end diddled Gordan out of the find on a technicality. See our ephemera piece on the true story behind it all.
Rare Queensland Gold Mining Lantern Slide

Updating...