Maria Island Convicts – Brian Rieusset – Signed by Author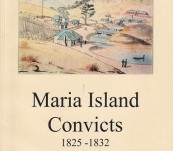 Short Description
First edition signed self published by the author, Hobart 2007.
Large format, softcover, perfect bound, 63 pages, illustrated.
A thoroughly researched and well-presented work on the convict of Maris Island, Tasmania 1825-1832.
The Register of Convicts which contains information on the 1 female and 346 male convicts is held at the Oxfordshire County Records Office in England. Not sure why it stays there of why the solitary female had to endure this rather peculiar imbalance.
The illustrations are special … we love the one of the Bernacchi house where Louis Bernacchi of Antarctic fame was brought up. The appendices with full useful contents from the register are a historian's delight.
Maria Island Convicts – Great work by Rieusset

Updating...