Mapping Our World – Terra Incognita To Australia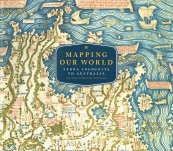 Short Description
Published by The National Library of Australia in 2013 a substantial quality work. Published on the occasion of the landmark exhibition of the title name held at the National Library of Australia from November 2013 to March 2014.
Landscape 30cm by 27cm perfect bound with stiff French style wraps. 256 pages printed to a very high quality.
Beautifully illustrated with maps that most collectors would willingly die for … following sensible format … Ancient Conceptions of the World; Medieval religious Mapping; The Age of Discovery; The Dutch Golden Age; Europe and the South Pacific. Followed by the most useful bibliography, glossary, checklist, etc. A fine copy.
Heavy and if Overseas may require a postage supplement.
A beautiful map book … indeed a beautiful book by any standards.

Updating...