Magic Lantern Slide – Cartographic Material – The Ross Dependency – Antarctica c1923 on Its Formation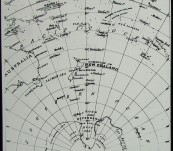 Short Description
An original magic lantern slide showing clearly the New Zealand Ross Dependency, by Newton & Co.
The Ross Dependency takes its name from Sir James Clark Ross ho discovered the Ross Sea and Victoria Land in 1841 and claimed the region for Britain.
The region is defined by a sector originating at the South Pole and passing along longitude 160 degrees east and 150 degrees east and stopping at latitude 60 degrees south.
On 30th July 1923 an order was published in the Government Gazette of the Dominion of New Zealand that the region should be named the "Ross dependency"' and that the Governor-General and Commander in Chief of New Zealand will be Governor of the Territory.
Newton & Co were formed in 1858. In the period 1912-1925 they had premises in Covent Garden. S we are pretty sure that the slide comes from 1923 and was prepared for presentations concerning these changes.
Standard size circa 3.5 inches or 8cm by 8cm.
Historic Cartographic record – the formalisation of the Ross Dependency in the Antarctic

Updating...