Madman's Bend – Arthur Upfield – First Edition 1963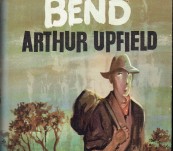 Short Description
A very good copy of the first edition of the last completed novel of Australian writer Arthur Upfield.
Aurthur William Upfield (1890-1964) was born in England and came to Australia and made it his home in 1911. He served in WWI, carried out a number of inland excursions in Australia and became familiar with the bush and indigenous Australians. He wrote many novels and is famous particularly for his crime series featuring Detective Inspector Napoleon "Bony" Bonaparte of the Queensland Police Force, a mixed race indigenous Australian. This his last book in the series is set along the Darling River in NSW.
Published by Heinemann, London in 1963. Octavo, 232 pages, a little age along the edge of the jacket but really as good a copy as you will find. Very clean internally. Gift inscription on front free end paper.
One of "Bony's" toughest mysteries. William Lush, sheep station owner and drunk beats his wife and goes to town in search of more grog. Returning he runs out of fuel and walks the remainder of the way home where he finds the door barred by his daughter who fires as shot from the other side. Lush disappears and his wife dies from her injuries … Bony is confronted with a dilemma is he searching for a murderer or a victim .. it all gets quite complicated.
Collectable and final Arthur Upfield Mystery

Updating...