Living on the Edge – Our Personal Antarctic Story – Yvonne Claypole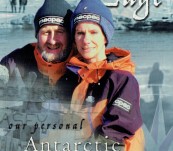 Short Description
First edition paperback (only form) published by Harper, Australia in 2001.Decorated covers. 262 pages, nice real photographs of goings on and the usual map. Surprisingly scarce and in great condition.
The story of adventurous couple Yvonne and Jim Claypole who gave up the quiet life in Melbourne to live in "Gadget Hut" nearby Mawson's Hut, Cape Denison for a full year. They managed scientific readings from Mawson's Hut during the period.
At 3.6 metres by 2.4 metres, Gadget Hut is no Hilton. Minus 33 Degrees in the "Dunny" called for swift action. Their winter boredom nearly got to them but cigars, fruit and the US papers from a passing US Military Scientist helped. A delightful and at times chilling narrative.
Would you feel safe at Gadget Hut? … maybe the place to be!

Updating...