Lawrence of Arabia – The Journal of the T.E. Lawrence Society – Long Unbroken Run of 46 Issues – Bound and in Fine Condition.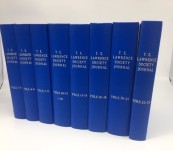 Short Description
Published at Oxford by the Society a continuous run from 1991 to 2014.
Octavo, 46 issues (Over 4,000 pages) plus the index volume. Bound in eight volumes, blue cloth covered boards. Volume 1, Number 1 Spring 1991 to Volume XXIII, Number 2 2013/14. Retaining the original card covers on every issue. Not a mark on them, fine condition. A heavy set which may require an Overseas postage supplement
We will be adding a listing of the journal contents. This is the first bound volume only ..
Vol 1/1
1. A.W. Lawrence 1990-1901 (T.E. younger brother had just died)
2. Eleven Hundred Miles on the Lawrence Trail
3. Lawrence as an Archaeologist
4. T.E. Lawrence and the Bodleian
5. Mecca's Revolt against the Turk
6. Interview with Colonel Lawrence
7. An Appeal from Damascus: the Mohammed Abdulla Bassam Affair
8. Notes on the Introduction to the Royal Air Force of High-Speed Craft
9. A Lawrence Diary, "Oriental Assembly"
10. An Introduction to the BBC 1962 Documentary: T.E. Lawrence 1888-1935
11. Documentary Proof of Wishful Thinking
Vol 1/2
11. Off and On The Tracks to Atwi
12. T.E. Lawrence and Frederick Manning
13. Lawrence and his Brough Superiors
Vol2/1
14. Arabian Nights and Days: Part I
15. Ramping
16. T.E. Lawrence and Rupert de la Bere
17. T.E. Shaw and the British Power Boat Company
18. Tale of an "Arabian Knight": The T.E. Lawrence Effigy
Vol 2/2
19. More Travels on the Lawrence Trail
20. Arabian Nights and Days: Part II
21. The Mint Illustrated
22. Amendments to the Authorised Biography
23. T.E. Lawrence Materials at Oxford.
Vol 3/1
24. Seven Essays
25. Summary of the Hejaz Revolt
26. T.E. Lawrence at Clouds Hill
27. T.E. Lawrence and the Visual Arts
28. Notes on the American Issues of Revolt in the Desert
29. Notes on Editing the Oxford Seven Pillars
Vol 3/2
30. Sherif Feisal
31. Great Britain and the Arabs up to the Armistice of 30 October 1918
32. Two views of T.E. Lawrence
33. Lawrence of Arabia in a New Disguise
34. T.E. Lawrence and the translating of the Odyssey
35. Motor-Boats for the R.A.F.
36. Voyage of an R.A.F. Motor-Boat
T.E. Lawrence – The Journal of the Society – The man would have been impressed.

Updating...