History of Cartography – Bagrow and Skelton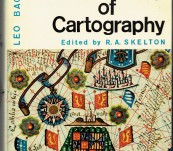 Short Description
A first edition of the Skelton edited and expanded work of Leo Bagrow first published in German in 1951. Bagrow a passionate historian of cartography had died in 1957. Perry's copy with his signature on the front end paper. Skelton was in charge of the Map Room at the British Museum ... not a bad job!
Published by Watts, London in 1964. Quarto, 312 pages printed on thick paper so more substantial than it sounds … a solid book. Numerous appropriate illustrations. Regarded as a classic of the subject. A heavy book which will require a postage supplement for Overseas.
Starts with some discussion on the maps of primitive people then the ancient world. Christian and Islamic developments in the Middle Ages. Mediaeval sea charts and the development of the world map. Ptolemy and the Renaissance or rather their use of Ptolemy, who dies a little earlier. Printed maps and the age of Discovery … etc. Nicely done … lists of cartographers, bibliography etc
Serious Cartographic History – Perry's Copy

Updating...