Here's a Villian [Concerning Brisbane Boys Grammar] – George Carson Cooling – First Edition Scarce 1949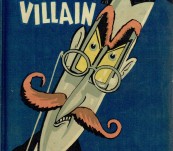 Short Description
A rare book published by Watson and Ferguson, Brisbane in 1949. George Cooling was a pupil and later Master at the illustrious Brisbane Boys Grammar. Written with a hint of Wodehouse; he may certainly qualify as a "Villian"… with his frank expose of goings on … with often tongue planted firmly in cheek. The story of the teaching of sex education and the parents attempts with the birds and the bees is very funny … young boy at Church wedding of his elder sister shouts out to his mother … "When is he going to give her his pollen?" .. priceless.
Octavo, 254 pages, a trifle cocked as with all W & F books, very clean and with a very good dust jacket. The odd cartoon illustration by McClure.
The art on the dust jacket is really super and makes the book. For those that know the history of Pink Floyd, think of the Cartoon images drawn by the great Gerald Scarfe to accompany "One More Brick in the Wall" … was this the inspiration? Doubt it, but what a coincidence. "Hey Teacher Leave us Kids Alone".
Essential Grammar related book … but any Brisbanite will love and cherish it.

Updating...