Graham Greene – Collected Stories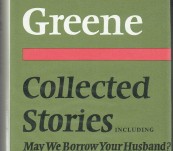 Short Description
A second printing of the Collected Series of Greene short stories. Includes the entirety of previous collections titled … May We Borrow Your Husband; A Sense of Reality and Twenty-One Stories. Added to A Sense ... are three stories previously not published in book form … The Blessing, Church Militant and Dear Dr Falkenheim.
One of the advantages of the "Collected Series" is the introduction by GG himself. Here we learn how the stories came about, what makes a great short story (try Chekhov's – The Lady with the Dog) and also GG's struggles with the form and the problem of knowing the outcome at the start compared with a fuller form novel of "entertainment' as he preferred for his "shorter novel" the writer can be taken down various paths unknown at the outset. Well still did a rather good job anyway and the language often in these mere morsels often unfamiliar and rewarding.
Publishes by the Bodley Head in 1974, octavo 562 pages ... 40 stories all up. Dust jacket designed by Michael Harvey. Very good condition bar previous ownership signature on free end paper.
Graham Greene – short stories, many and varied – great bedtime reading

Updating...