Film Fun Annual 1957 – Starring Laurel and Hardy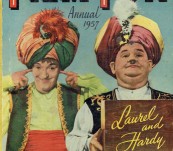 Short Description
If you don't know who Laurel and Hardy were then this book is probably not for you … if you do then it will be … pure nostalgia.
Printed in London.. Gordon & Gotch were the Australian Agents. Perfect bound, generally in good condition for its age and undoubted use.
Large format, 128 pages with much more content than others of this style and format. Several cartoon stories each of the comedy adventures of Laurel and Hardy; Abbot and Costello; Red Skelton; Dean Martin and Jerry Lewis and the picture boy Frankie Howerd (before he went Up Pompeii). Some in colour … the whole interspersed with full narrative adventure stories.
Film Fun in 1957 – Times have changed for sure

Updating...