Ernest Hemingway – A Comprehensive Bibliography – Compiled and described by Audre Hanneman.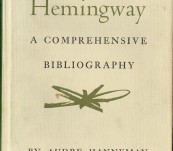 Short Description
The definitive work published by Princeton University Press in 1967. Significant involvement from Scribner's as one would expect.
Large octavo, 568 pages. Complete dust jacket with a couple of small spots, very clean inside a very good copy of a book more often found ex public library.
Following a Forward by Charles Scribner Jnr an a useful Preface by the compiler we have Part I … which comprises a Chronological List of Hemingway's books then the main game .. Books and Pamphlets (American and English [mainly Cape] Editions). Here we have the full description of each work and progressive edition.
Following that … Contributions and First Appearances in Books and Pamphlets; Contributions to Newspapers and Periodicals; Translations; Anthologies and Library Holding (Letters, Ephemera etc)
Part Ii provided information on books and articles about Hemingway an Part III, really and appendix of references to previous notes.
This is certainly the "go to" reference … it is before Islands in the Stream and we can see one or two omissions and small errors. But don't be put off.
Ernest Hemingway – the reference for collectors an admirers.

Updating...